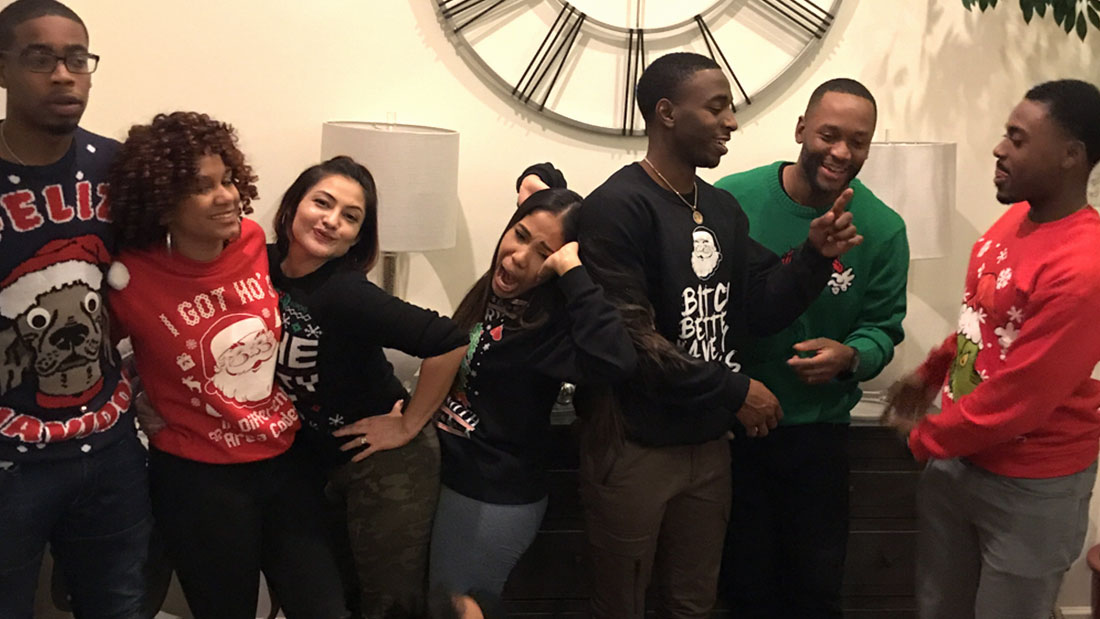 07 Dec

10 Ugly Sweaters That Are Sure to be a Hit This Holiday Season

I'm not sure if I told you guys already or not, but I take the holidays pretty seriously. On Easter we dye more eggs than the Easter Bunny himself. On St. Patrick's Day I make my kids little goody bags and I'm not even Irish. And on Halloween I force my entire family to dress in a group costume. But in my house, Christmas reigns supreme. I watch Elf and The Santa Clause year round, sing Christmas carols in June and my entire basement is full of ornaments. Yeah. I'm THAT mom.

Every year, my husband and I host an ugly sweater party for our friends and family, so I'm somewhat of an expert when it comes to Christmas attire. Here is my list of Ugly Sweaters that you need to rock the shit out of this holiday season.

1. This one is for all the non-believers.


Jack'D Up Tees Ask Your Mom If I'm Real' Christmas Santa Premium Crewneck Sweatshirt
2. For those with a more risqué lifestyle.


Pekatees Ugly Sweatshirts Off The Shoulder Sweater I Got Ho's In Different Area Codes
3. You'll be the life of the party in this little number.


Tipsy Elves Men's Beer Pong Sweater
4. All my Game of Thrones fans STAND UP! These two are for you!


Fresh Tees Ho Ho Hodor Ugly Christmas Sweatshirt

Fresh Tees Let It Snow Jon Snow Ugly Christmas Sweatshirt
5. Cause Santa don't do this shit for free.


Vizor Bitch Better Have My Cookies Sweatshirt
6. This one needs no explanation.


Snowtorious Ugly Christmas Sweater
7. This is uncomfortable and hilarious at the same time.


TeeStars – I Touch My Elf Ugly Christmas Sweater Sweatshirt
8. A not-so-known fun fact is that Santa is really Mexican. And he wears a sombrero.


Feliz Navidad Ugly Christmas Sweater in Green By Festified
9. For moms who take gift wrapping very seriously.


Gangsta Wrapper Raglan Tee
10. Because… Mike Tyson


Wild Bobby Merry Chrithmith Mike Tyson Ugly Christmas Sweater
These bad boys are sure to be a hit at any of the numerous ugly sweater parties you are forced to attend this holiday season. Thank me later!
We are a participant in the Amazon Services LLC Associates Program, an affiliate advertising program designed to provide a means for us to earn fees by linking to Amazon.com and affiliated sites.