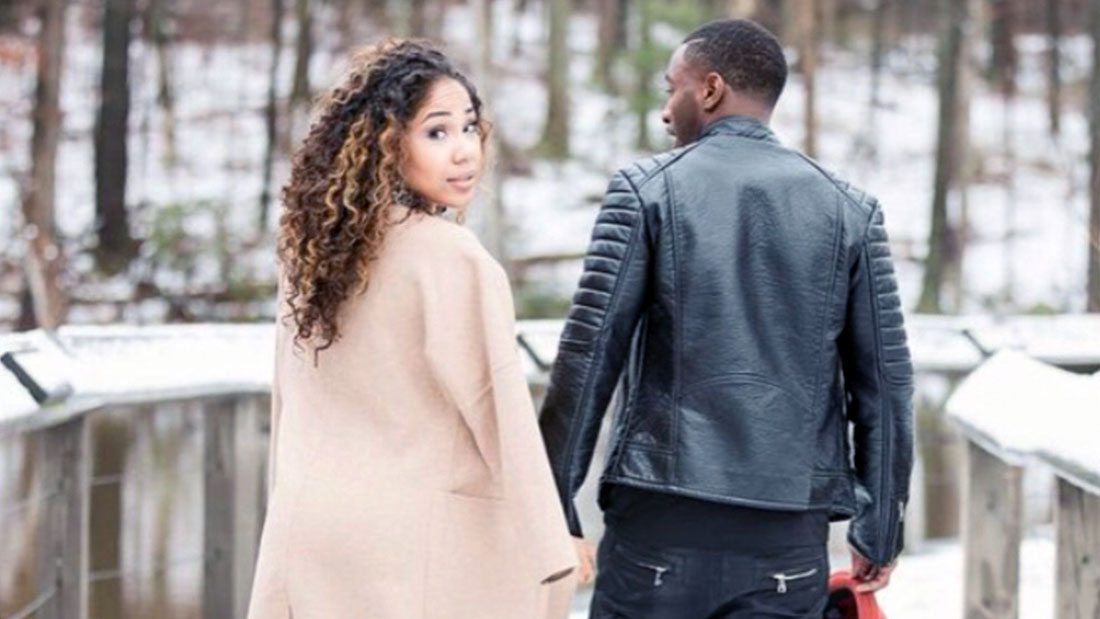 03 Apr

The Day I Got Engaged- A Ceramic Pig, A B!tch Fit And A Golden Egg

If you've been riding with me for a while, you know that holidays are a big deal for me and my family. Since Easter was just two days ago, I thought it would be fitting to share the story about how my husband proposed to me on Easter four years ago. You're probably thinking "awwww, this is gonna be so sweet", but you know it wouldn't be The Funny Momma without a little drama! I know you have questions so let me explain.

I'm known for being a lot of things, but I don't think being a bitch is one of them. Or at least I hope not. I try to be kind to everyone and considerate of their feelings. However, just because I'm not a bitch by nature, that doesn't mean I don't have bitchy days. And trust me I have had very bitchy days. Especially the day and I got proposed to.

My family takes celebrating holidays very seriously. My mother, my sisters and I have divided up the holidays so that each one of us has a holiday to host at their home. My mom takes Christmas, my older sister Bonnie takes Thanksgiving, and Zari really doesn't give a shit about hosting, so she just contributes a dish to everyone's respective holiday.

My holiday, has always been Easter. I love spring. I love brunch.  And I love me some Jesus. So it's only right that I claim Easter as my holiday.

Every year, I host a very elaborate brunch for Easter. I'm talkin' hams (yes multiple), quiche, French Toast casserole, home fries, pasta salad, donuts, croissants, mimosas – the whole enchilada. Per tradition, once brunch is over, we have an Easter egg hunt for all of the kids. It's a pretty awesome shindig if I do say so myself.

When Dayo (my then boyfriend/now husband) and I moved into our first home together, we had been together for three years. This was a big deal for us and our relationship, ESPECIALLY since we weren't married. I had spent the previous 8 months dropping hella hints about my desire to move in together and get married. It took some work, but after extensively complaining to Dayo that I know longer wanted to live in separate homes, he caved and succumbed to my request. 

Side note: I do not condone pressuring a man to do what you want. It can often times backfire on you and take a turn for the worst. However, sometimes you gotta make demands, if you want to move things along. And I'm a woman that prides myself on "getting' shit done"…so there's that.

This particular Easter was very exciting for me because it would be my first Easter that I was hosting in my own home. Normally I would host at my mom's. So I went all out. Everything was perfect. I had the perfect menu, the perfect decorations and the perfect set up. I had even purchased this beautifully perfect, ceramic, green pig that I stuck on the counter. It brought my kitchen to life!  But even with all this perfection, there was one thing that really had my panties in a bunch. There was no ring on my finger.
I know I should have left it for another time, but I was just so irritated and couldn't get the thought out of my mind.
The day before Easter I was very angrily making the ham. Dayo could tell something was wrong with me, so he tried to avoid me all day. Finally, when he got up the balls to actually come and ask me what was wrong, I told him to take a look at my ring finger. He tried to laugh it off, but this was no laughing matter.
I started a full-blown argument with this man because, for the life of me, I could not understand why we were not engaged yet. I mean I am pretty hot shit so wtf was he waiting for?!? Remember when I said pressuring a man can end poorly? Well for me, it did… kinda.
Dayo was furious. I had never seen him this mad. He said that I was stubborn, selfish, and a brat. This, of course, pissed me off even more and sent me off into a screaming frenzy. It was probably the worst bitch fit I've ever had. I did not care. I wanted my fucking ring.
Side note: I know you are probably thinking I am the worst person in the world right now. And in hindsight, I WAS doing the most. However at that time, I really couldn't not wrap my mind around what the holdup could be.
I was screaming like a mad woman, which led to Dayo walking out of the house and storming down the street. He walked around the neighborhood for about two hours. In the mist of all this, my older sister Bonnie calls me.
Me: OMG Bonnie! You will not belie-
Bonnie: You're a fucking idiot. *click*
Me: *hears dial tone* Hello?
What the fuck was that about? Had she spoken to Dayo? If so, how could she say that I was an idiot when Dayo was the one taking his sweet time to propose to this bad bitch? What the hell was going on?
After finally taking a breather and evaluating the situation, I realized I went a little too hard on Dayo. I was still irritated as shit but I probably could've 1. Handled the situation better and 2. Chosen another day to address my issue. At this point, he wasn't talking to me so I just finished the rest of my Easter prep.
The next morning, I got up early to finish all of the last minute details. By the time I woke up, Dayo had already left the house. In my mind, he had left me and fled the country, but I couldn't focus on that because people would be arriving in a couple of hours. Everything was cooking perfectly and I was most excited to show off my ceramic kitchen pig (my whole family hates this pig btw). As I'm pulling the final quiche out of the oven, I hear the front door unlock. Dayo was home!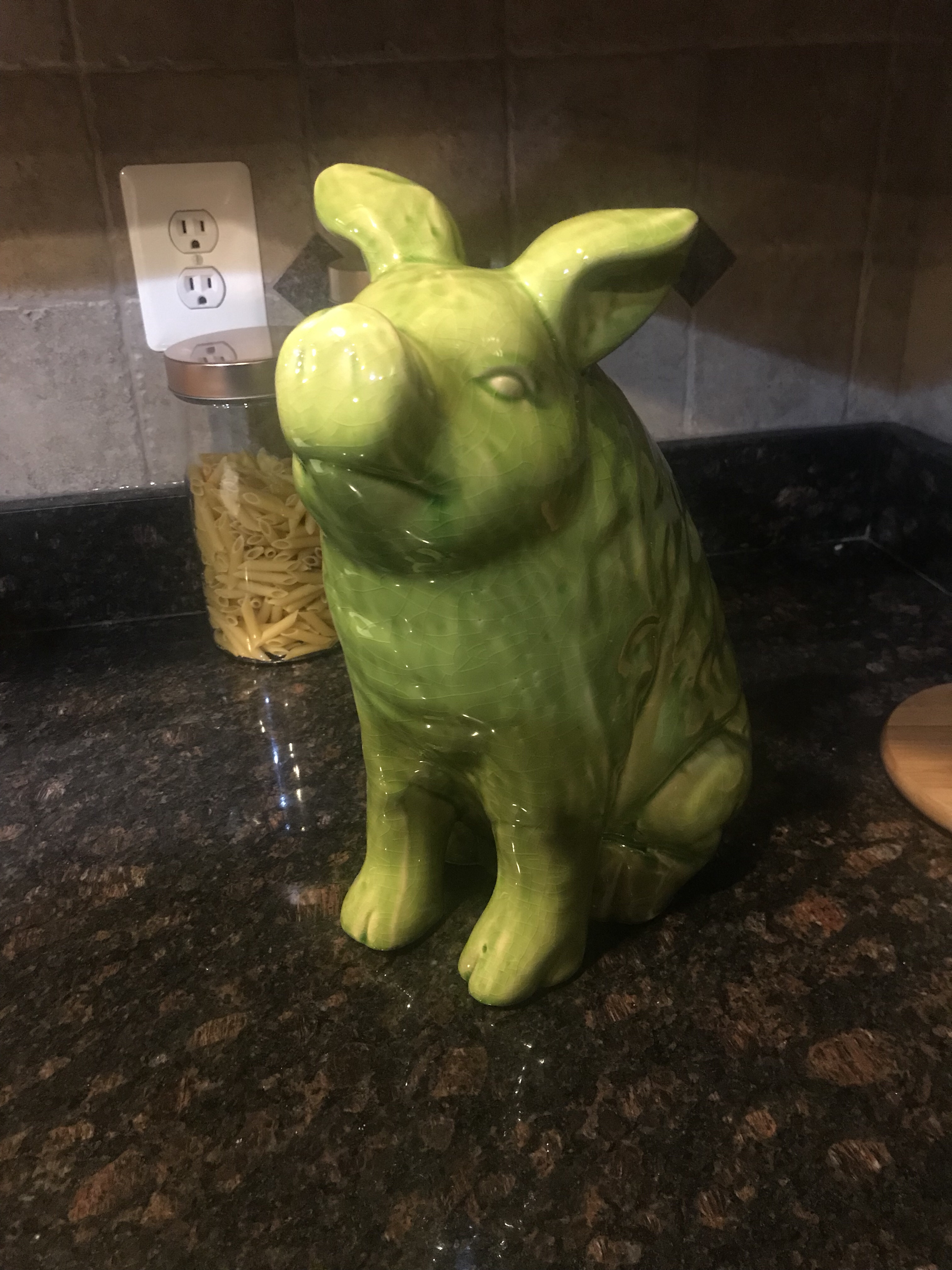 Initially I wanted to hit him with a "where the fuck you been?" and a neck roll, but I decided to play it cool and continue setting up the brunch. He walked in to the kitchen, plopped an orchid on the table and kissed me on the forehead. "I don't want to fight today, so this is a peace offering" he said.
An orchid is your peace offering? An orchid? HOW ABOUT A MOTHER FUCKING RING! I didn't say that, but I sure did want to. However, since it was the Lord's day and all, I hugged him and thanked him. Even though deep down I wanted to throw the orchid at the back of his head when he walked away.
The brunch was set to start at 2:00 pm, but by 1:45pm we already had about 25 people in the house. We were expecting 40, which is the norm with our immediate Mexican/Nigerian family. However by 3:00 pm there were 75 damn people in my house. Every unexpected guest that walked in sent me into full panic mode.  I'm going to run out of food! We don't have enough seating! There's not enough booze! I kept glancing at Dayo with anxiety ridden stares to which he quickly looked away.
The entire brunch Dayo avoided me and stood in the corner with his friends getting drunk.  He's not a big time drinker at all, but this day, he was throwing back the shots. What was even more bizarre was how attentive my mom and sisters were being towards me. They kept fixing my hair and making sure my makeup was perfect. Through all this weirdness, I still had to hide the eggs for the  Easter Egg Hunt. We hid the eggs, announced to the kids that the Easter bunny had just arrived and the hunt commenced.
Normally, all the parents would be outside with their kids, taking pictures and helping them find the treats. But this time, halfway through the hunt, the parents started trickling inside, leaving their children outside to fend for themselves.
What in the whole fuck was going on here?
The hunt was over and I was outside, by myself, picking up candy wrappers and plastic eggshells. I have to admit I was pretty ticked off that everyone had left me outside to babysit and then do damage control. I walked in the house and the living room is empty. I could see everyone hovering around in the kitchen, looking at me out the corner of their eyes. It was almost a guilty look they had. First thought that came to my mind was "someone broke my damn pig".
I ran in the kitchen, breathing heavily because I was terrified to see what had become of my precious porker. I pushed through the group of guests, all the while extending my neck to look above the crowd and into the corner that I had nestled my ceramic swine. I finally get passed everyone, still looking directly at my pig, only to realize he was still there and still fully intact. What was going on?
Just then, I notice Dayo walking up to me with a shiny, golden egg in his hand. It was covered in so much glitter that his had looked like a disco ball. By now, the pieces started coming together but I was still a bit confused. Everyone got quiet and pulled out their cameras and phones.
Oh shit. This is it. He's about to propose. Thank God my pig is ok, but yes! He is about to propose. OMG! That's why Bonnie said I was an idiot. Oh my gosh. I was such a bitch yesterday. Damn, Katryce!  
All of these thoughts rushed through my head in a matter of seconds. Dayo looked me in the eyes and dropped to one knee. Now most women, at this point, would start crying and wait to hear their man profess their love to them. But at this point in time all I could do was replay over and over how terrible I had been to Dayo the day before. So instead of hearing him out, I grabbed the egg, jumped on him and said yes. I had been so awful to him that I knew I had to move quick before he changed his mind. I didn't even allow the poor guy a chance to actually ask me to  marry him.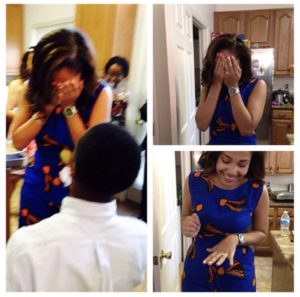 So I'm crying, he's drunk and my precious pig is fine. All was right with the world. In all this chaos, I had forgotten about the ring! I never even opened the egg to see what was inside! I jumped up, wiped my eyes and opened the egg to find the perfect ring. It was everything I wanted. I guess all of my hard work of leaving magazines and web pages open to rings I admired were perfect clues for Dayo.  He did a great job.
Looking back on my proposal, I wish I would've handled myself better. My level of bitchy was at an all-time high and I should've had faith that my man was in it for the long haul.
But on a petty note- I still secured the bag so…  
Easter has always been my favorite holiday, but thanks to Dayo it is even more special to me now! Any exciting Easter stories out there? Spill the tea!