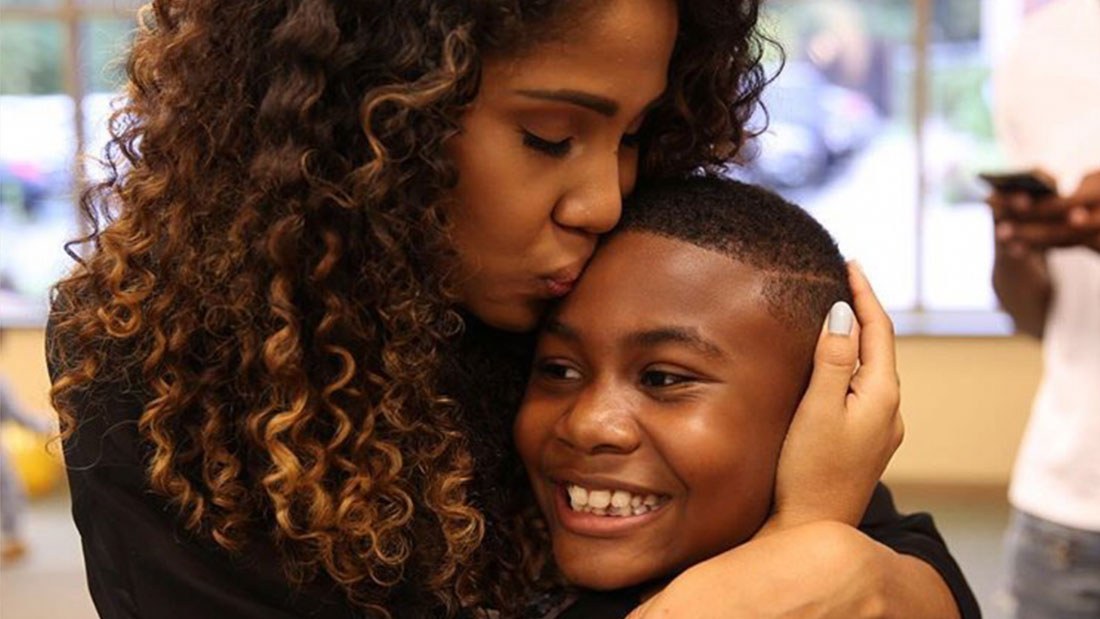 24 Oct

The Human Blueberry

I'm a mother of three beautiful, bad-ass boys. CJ (11), Elijah (10) and Ashton (9 months). For those of you who know me or follow me on anything, you know my children are my life. Although I joke and kid about how much they get on my nerves, those little assholes are my whole entire world. So it's only right that I begin my blog with where motherhood all started for me. My A-1 since day one- CJ.

Craig Allen Jackson Jr is my first born, baby boy, Junie Bug, Baby Cakes, Love Muffin and BFF. He only goes by CJ and is literally offended when anyone calls him otherwise. In 2006, God decided to bless me with this amazing little boy when I was only 19 years old. To say that I was not mature enough to be a mom is a HUGE understatement. I watched Hocus Pocus on a weekly basis, considered Taco Bell and corndogs a balanced diet and was still waiting for my acceptance letter to The Hogwarts School of Witchcraft and Wizardry. I don't even think I had a credit card at this point. Even though I was legally considered one, I was nowhere close to being an adult.

Regardless, God chose me out of everyone in the world to be the mom of this incredible little being. CJ's father and I married shortly after he was born because we thought it was the "right thing" to do. We wanted to provide a family environment for CJ and marriage seemed like the next logical step. Fast forward to 2 years later- we threw in the towel. Like I literally threw the towel in the trash, walked the trash can to the street and waited for the garbage man to come so I can watch that shit ride off into the sunset. Marriage was hard as shit and we were just babies who had no idea what we were getting ourselves into.  When I think back at that time I'm never disappointed or angry about the marriage or the divorce. It was a learning lesson for both of us and I'm happy to report that we now very successfully co-parent our little knucklehead.

Ok- back to CJ. He's hilarious. Like knee slapper funny. There's even been a couple times where I've had to pull the car over to the side of the road because he's made me laugh so hard. And don't get me started on his dancing skills (I'm using the word "skills" very loosely). My poor baby can't dance to save his life. No matter the beat, he just can't catch it. His hips get all lose, he starts moving his neck like a turtle and then does this drop move that makes him look like a malfunctioning robot. He's well aware of the fact that he is not gifted in the art of dance but that has never stopped him from grooving his life away. Anytime any kind of music comes on CJ has this irresistible desire to get up and move. Even watching TV is a chore with this guy because during every commercial break, he stands up to dance to the commercial's background music. SIT YO ASS DOWN SIR!

CJ's always been driven and knows exactly what he wants. Since age 5 he's told me that when he goes to college he will be going to NYU with Harvard as a "back-up" (you can't grow that kind of confidence on trees) and that goal has never changed. CJ is on the basketball team, soccer team, boy scouts, band, running club and just asked me to sign the permission slip for the safety patrol league. He's a borderline genius, loves to read (in the 5th grade reading at an 11th grade level) and can hack into nearly any type of smart device (hide ya phones). He's kind, loving and empathetic but also mischievous, daring and wild at the same time. What stands out the most is his exceptional charisma. He's gotten out of many punishments with "this was honestly the most delicious meal I've ever had in my life", "your skin is literally glowing today" and his all-time go-to "did you lose weight. You look incredible!" He is extremely resilient so it's never easy to reprimand CJ without getting hella creative.

At age 5, CJ went through a period where he just couldn't follow directions and wouldn't tell the truth. Whether it was something as big as getting a bad grade or something as small as who ate the entire box of pop-tarts- CJ would lie. The situation was getting out of hand and I knew I had to take drastic action. CJ is the world's biggest Tim Burton fan and Charlie and the Chocolate factory is where it all started. He's never been afraid of much but that scene where the little girl turns into the blueberry scared the shit outta him. Every. Damn. Time.

So one night, after watching Charlie and the Chocolate Factory for the 1,274,532nd time, I explained to him that the reason why she turned into a blueberry was because she was not following directions and had lied to her mom. He looked a little concerned but was obviously not concerned enough. Literally three minutes later…THREE MINUTES LATER… he took my brand new nail polish and decided to paint the bathroom cabinets. My first thought was to flip-the-FUCK out, but instead I took a deep breath and came up with the greatest idea ever known to man. I quietly cleaned off the cabinets, made him brush his teeth and put him to bed. He thought he got off scotch-free but Mami had bigger plans.

The next morning, I woke up super early and asked my baby sis if I could borrow her blue eye shadow. While CJ was still asleep, I rubbed a nickel sized amount on the tip of his nose and then hid the evidence. I woke the little sucker up and told him it was time for school and that he needed to brush his teeth. I walked in the bathroom casually behind him because I knew this shit was gonna be good. He grabbed his tooth brush, neatly put the toothpaste on it and brings it to his mouth. Before it makes direct contact, he catches a glimpse of himself in the mirror. He squints at himself and then puts the tooth brush down so that he can freely rub booth eyes. Staring at himself, eyes now huge- he looks terrified. He looks at me and I act just as surprised. "CJ what the heck is that on your nose?! Oh my goodness! My baby is turning into a blueberry! Now we're going to have to juice him! Take me now Lord!!!" I dramatically drop to my knees which sends CJ bursting into tears "BUT I DON'T WANT TO BE JUICED!!" He didn't lie for at least 3 months after that. Mom-1. CJ- 0.

What's the most creative punishment you've given to your child(ren)? Let me know in the comments below!