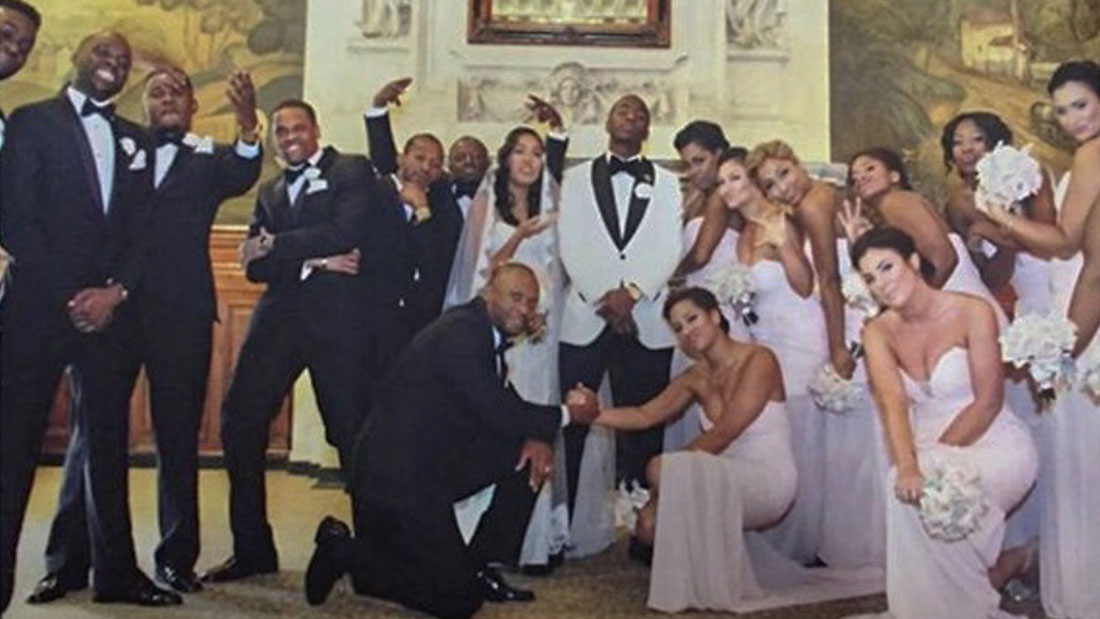 10 Jul

Best Day Ever! – Bridesmaidszillas, DIY Wedding Favors and Getting Stuck in my Wedding Dress

Alright folks! Let's get back to it! Literally one week after my 8-hour, 400 guests, 2 dresses engagement ceremony, it was time for my actual wedding (if you haven't read the post on my crazy engagement ceremony click here). To say I was overwhelmed would be an understatement! There was so much to do and so little time. Literally! Before I get to the actual wedding story, let me give you a little back story to understand all the work that was put into our special day.

I'd like to start off by stating that I was a very calm bride. I didn't ask my bridesmaids for a lot (or at least I didn't think so), I didn't have any bridezilla meltdowns AND I kept my cool the entire day of my wedding. As I stated in my previous post, I am known to be very dramatic over very small things but when it comes to important situations, I always keep my cool.

In the beginning stages of our wedding planning, we opted for something small; and by small I'm talking 150-200 guests. Compared to the average ceremony, that may seem like a large wedding. But when talking about a Nigerian/Mexican/Black wedding, it's really is small. Put it this way, by the time we finalized the guest list, we were at 350 guests. Here we go again.

The theme was soft glam with a little bit of Gatsby thrown in the mix. After months of searching I finally found the perfect venue to fit my exact theme.  We chose The Belvedere in Baltimore;  a 100-year-old venue that was perfectly preserved and embodied everything I envisioned. The only problem was the capacity. It could only fit 290 with a dance floor and 360 without a dance floor. What the fuck kind of wedding doesn't have a dance floor? I didn't know how we were going to do it, but I knew we were going to use that venue, have a dance floor and squeeze all 350 guests inside.

After weeks of back and forth with the Belvedere staff, I had them agree to fitting 325 guests in the space WITH a dance floor. Now what to do with the extra 25 guests? Easy fix! NO KIDS ALLOWED! That simple change chopped off 26 names from the guest list. Sayonara SUCKAS!

Side note- we did allow our own kids and the flower girls (my nieces) to attend the wedding. We're not complete monsters after all.  

My dress was surprisingly easy to pick, however it was a totally different style than I had in mind. I went in the shop thinking I was going to pick a lace, mermaid style dress that hugged my curves and was super Jessica Rabbit-ish. I pulled a few from the racks that fit what I had in mind and right before I went to try them on, I noticed a little nook in the back of the store with a small collection of gowns.

All the way in the back, tucked in a corner was a beautifully simple, Italian silk dress that had a sweetheart neckline and a princess-style skirt. It was nothing like what I thought I wanted, but for some reason I couldn't put it down. I had to at least try it on.

If you've never tried on a bridal gown before, let me tell you that it can get awkward AF. You have to strip down to just your underwear and a random pair of heels (that the shop provides), while a stranger helps you wiggle your ass into mounds of tulle and lace. Before zipping everything up they ask you to grab your boobs and lift them up so they stay in a decent position in the dress. Very Fifty Shades of Grey like.

Anyway, I tried on all of the other dresses first and my family loved one in particular.  They thought it was PERFECT for me. I really liked it too, but I couldn't stop thinking about the mystery dress I had waiting for me in the dressing room. Before I made a decision, I had to at least try on the other dress first. It took forever for me to get into the dress because there were about 35 hooks along the back of the dress. But as soon as the consultant hooked the last button, I was in love. I knew it was the one when the consultant told me that this dress was handmade by the owner of the boutique. It  was one of a kind and it was mine.
I had found my dress!

Finding my bridesmaids dresses was a pain in the ass. I had nine bridesmaids and a junior bridesmaid, so shit got real. Some were tall. Some were short. Some were thin. Some were curvy. Some were willing to splurge on a dress and some were on a tight budget. Talk about STRESSFUL! Nothing is worse than having to buy a dress you completely hate just cause the bride made you do it. I did not want to be THAT bride.  I wanted everyone to be happy, but finding the perfect dress for all of my girls seemed nearly impossible.  
There was way too much going on, so I put the task of finding the perfect dress on my bridesmaids. All I asked was that the dress be blush pink and floor length. After what seemed like an eternity of searching, two months before the wedding, my bridesmaids decided on a dress. It was blush pink, floor length,  fit everyone's budget, complimented everyone's shape and would make it here just in time for the wedding. AMEN! Everyone just needed to get their measurements done by a tailor so the dresses could be properly sized. Easy peezy, right?
Let's move on to the actual week of the wedding. EVERYONE was still exhausted from our huge engagement ceremony that took place the week before, but there was plenty of work to do and no time for rest. The Monday before the wedding, I had the final fitting for my dress and I could barely keep my eyes open in the boutique. Like, I literally fell asleep while waiting for my dress. For the rest of the week, if I wasn't picking someone up from the airport I was confirming final details with my florist, cake decorator (no way I was about to make another cake), photographer and venue coordinator.
Even though I was tired AF and had a task list longer than me to complete, I felt confident that the wedding would go off without a hitch. That is until four of my nine bridesmaids let me know that their dresses  didn't fit properly. Remember when I said they had to go to a professional tailor to get sized? Welp, these bitches skipped that part, took matters into their own hands and measured themselves. What a bunch of bozos. 
Some were too big and others were too small. Regardless, it was a shit show and we only had FIVE days to fix it. I called my favorite seamstress in the world, Ms. Abigail, to the rescue.  It was a race against time, but she got it done. Thank you, Jesus.
Now on to the next situation – the wedding favors. I wanted something everyone would be wowed by and would actual want. Nothing I found seemed snazzy enough, so I opted to make the wedding favors myself. I decided on what I can only describe as a sugar cookie stack. It was a stack of gold brushed sugar cookies, sandwiched together with a blush pink buttercream, sprinkled with gold edible glitter and topped with a gum paste rose. All of this would be presented in a clear, plastic gift box. I know it sounds like a lot, but it was beautiful. Trust me on this.
Each "stack" had four  cookies, which meant  I had to bake 1300 cookies, make 20 lbs. of icing and 325 gum paste roses, two days before my wedding. I'm sure you're wondering if I was just an overachieving bride or a complete psychopath. Psychopath for the win.  Anyways, my incredibly amazing bridesmaids came over in shifts and for hours we assembled and packaged all 325 favors the night before the wedding. Again, thank you Jesus.
That night, me, my mom and my sisters stayed at the hotel  we were going to be getting ready at  on the wedding morning. Everyone went to sleep early, so that we could wake up rested and refreshed. Much like the morning of the engagement ceremony, I woke up a little earlier than everyone else, so that I could have a little peace before all of the chaos. 20 minutes later the room was filled with bridesmaids, hairstylists, photographers, makeup artists and family members who just came by for support.
My mom set my hair and I was pretty much done because my makeup artist was going to slay my face at the actual venue. There were two makeup artists and things were moving a little slowly so my older sister Bonnie and I started doing some of the bridesmaids' makeup. My mom had taught us how to slay tf out of our makeup when we were young, so we are basically professional MUAs.
Basically.
I take much pride in saying that I surround myself with strong, independent women who don't take shit from anyone. That's awesome and all, but a room full of strong, independent bridesmaids who don't take shit from anyone can get pretty crazy.
"I need my hair curled early because it takes a while for it to set."
"Who is gonna put on my damn eyelashes?"
"I don't like to wear a lot of makeup, so I need a simpler look."
"I'm hungry. Is anyone getting food?"
"My feet already hurt and I didn't even put my shoes on yet."
"Who took my eyebrow pencil?!?"
A little too crazy for me. I just sat in the corner of the room trying to blend in with the curtains cause all of this chaos was tew much for ya girl. I secretly texted Pam, my maid of honor, and asked her if she wanted to sneak out and head over to the venue early. She nodded, I went into the back room to grab my dress and heels, and we snuck out the side door of the suite. We texted everyone from the uber, to let them know that we had left and even though they were shocked I left, they let it slide.
When Pam and I arrived at the Belvedere, the event coordinator greeted us at the door.
"Hello Katryce! Your bridal suite is on the 3rd floor along with your bouquets and the men's boutonnieres. Is there anything I can get you right now?"
Pam and I politely screamed, "WINE!"
She nodded and said she would have it brought upstairs.
Pam and I were only at the venue for about 20 minutes before my makeup artist arrived. That 20 minutes and a bottle of wine was more than enough time for Pam and I to get good and tipsy. By the time my makeup artist walked in I was singing Marvin Gaye and telling her how beautiful she was. It was glorious.
When the rest of the bridal party got there, they brought the chaos with them. Some people couldn't find their shoes. Others were getting too hot, so their edges were curling up. But nothing was crazier than what happened to my baby sister, Zari. She was one of the bridesmaids that measured herself,  which resulted in her dress being a little snug. So snug, in fact, that when Zari bent down to strap her shoe, her zipper popped.
Most people would freak out, but we kept it cool. Thankfully, our mother also taught us the basic fundamentals of sewing. A few bridesmaids held Zari's dress together while Bonnie literally sewed Zari into her gown. This was a great fix, but peeing proved to be a tricky task for Zari throughout the night.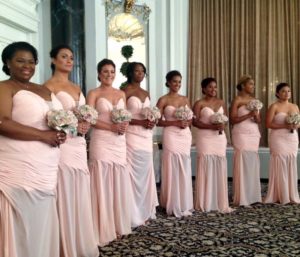 After hours of commotion, it was finally time for me to get married. Other than the fact that we started 45 minutes late because half of the guest list arrived late, the ceremony went smoothly and everything was beautiful.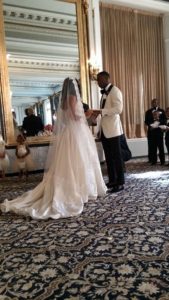 Now it was time to party! We had an open bar, so things went from 0 – 100 real quick. From Dayo's brothers who just barely turned 21 to my grandmother who is known to throw back the tequila shots, EVERYONE was getting wasted. We partied, danced and had an amazing time.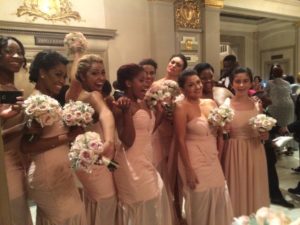 When the wedding was over, the bridal party insisted on an after party. It was 1 in the morning, we were too drunk to change our clothes and too lazy to yelp which bars were open. So my entire bridal party walked down along the Baltimore harbor, in our wedding attire, looking for a bar to get even more wasted. My husband helped me hold my dress up as we walked blocks and blocks looking for our next move. After about an hour of stumbling around the streets of Baltimore and hundreds of cars honking at the "street bride", we turned around and walked back to the hotel. We posted up in the lobby of the hotel and had a shitload of pizza and wings delivered to the hotel. It was the most perfect after party.  
This next part gets a little TMI, but if you guys aren't used to my TMI by now, we're not as close as I thought we were. SO all night my husband kept talking about "when we get back to the hotel room"… I'll spare you the details, but I'm sure you guys know what I'm talking about. So when we finally get back to the hotel room, I couldn't wait to get out of my dress.
There was just one problem, remember those 35 hooks on the back of my dress? My husband was too drunk and honestly too uncoordinated to unhook even one. I told him I would be right back and would find my sister to unhook my dress. When I walked out of the room and suddenly remembered that I didn't know anyone's room number! I kept calling everyone and no one would answer! So here I am at 3 am walking up and down the hallways of this giant hotel whisper screaming into each room "Mami?! Bonnie?! Zari?!"
I looked like an idiot.
Finally, after about 30 minutes, I gave up and decided that I was just going to have to "get busy" while wearing my dress. I walked into my room to find my bestie Britt passed out on the couch in the living room area of our suite. I woke her drunk ass up and after about 20 minutes of fumbling around, she was able to focus enough to unhook my dress.  I found my way back to my room door, fixed my hair and boobs, and opened the door.
"Baaaaaabbbbbe. I'm baaaaack."
I was expecting to find my husband, eagerly awaiting his bride, so we could intertwine in the many positions of the Kamasutra. Instead I found my drunk ass husband halfway hangin' off the bed, snoring heavily. Even though I was disappointed, it was at that very moment that the exhaustion of the past two weeks took over my body. I climbed into bed next to my new husband and crashed. Besides we would have the rest of our lives to make sweet sweet music, right?!
[embedyt] https://www.youtube.com/watch?v=7kCwGm8RI4o[/embedyt]
Scroll down to see a few more pics from the wedding:)