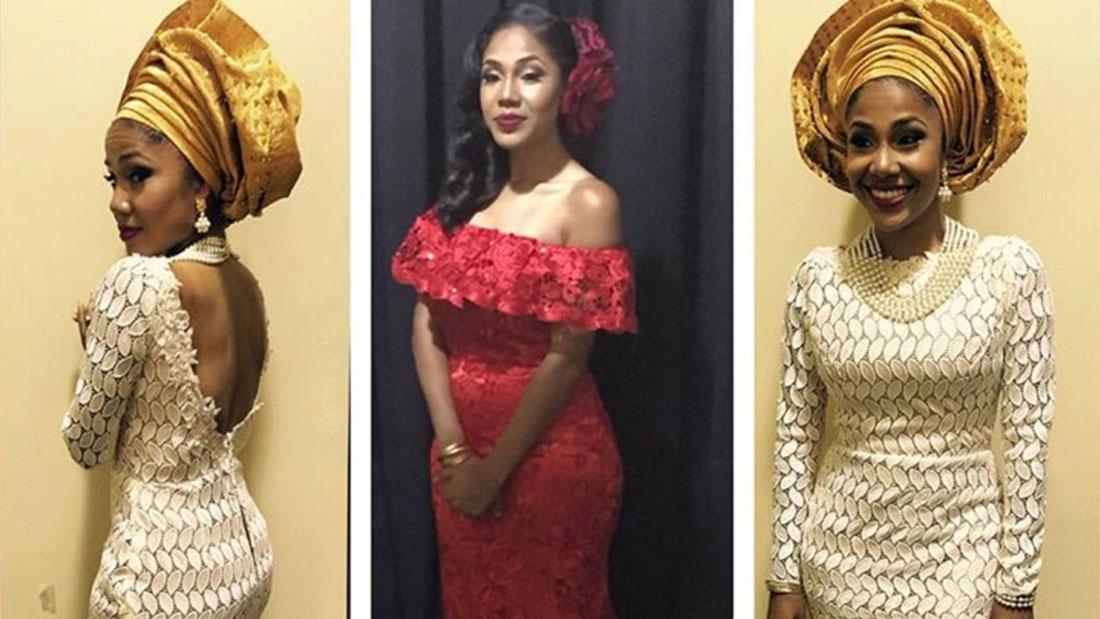 06 Jul

My Big Fat Nigerian Wedding- When Mexico and Nigeria Collide

I am one of those girls who always dreamed about her wedding day.  I had my whole wedding planned years before I was even of age to wed. I just love every aspect of  weddings – from the dress to the food to the first dance. Weddings are so magical and romantic and I am obsessed with the detailed work it takes to execute these glamorous events without a hitch. So obsessed, in fact, that I became an event planner.

When the time came for me to get married, I already had the whole thing planned out, including the people that would help me create my perfect day. What I didn't know was that planning a Nigerian wedding is NOTHING like what I had expected. I know you have questions, so let me explain.

The moment Dayo slid that ring on my finger, it was as if someone had waved a checkered flag in front of my face because I was off like a race car driver (read all about our crazy proposal story here). I pulled out my secret wedding planning book that had every single detail of our upcoming wedding  (I had been hiding the book from Dayo so he wouldn't know I was a complete psychopath). I picked up a million and one wedding magazines and started my wedding Pinterest boards.
It was about to go down *in my best Kevin Hart voice*.
While I was waist deep in floral arrangements and interviewing caterers, Dayo told me that his father insisted on hosting an engagement ceremony. In the Nigerian culture, the engagement ceremony is often times more important than the actual traditional wedding. Dayo warned me that the planning could get a little crazy and maybe we should just pass, but it was so important to his father that I didn't have the heart to say no. His dad assured us that this would be a small event just to make sure we honor the traditions of their culture. Besides, I'm always down for a party (click here to read all about how I made a fool of myself at Dayo's cousin's engagement ceremony).
The next week, Dayo's father asked us to come over for a small meeting to discuss the details of the engagement ceremony. When we arrived, a woman I didn't recognize answered the door.
Dayo: Auntie!
Auntie? I had never seen this woman before. However, Nigerians have more aunties, uncles and siblings than you will ever met in your entire life, so I figured it was just a family member I had never met before.
She smiled at Dayo and then re-adjusted her focus on me.
Woman: Ahhh. Hello. You must be the bride.
Me: Um, Yes. Hello. *nervous laugh*
Woman: Follow me to your wedding dreamland.
Me: *under my breath* …what the f-
Me to Dayo: So that's your father's sister?
Dayo: No. Never met her before.
Side note: In the Nigerian culture, if you don't know an older woman's name, you call them Auntie just to be safe. In my experience, and with my terrible memory, this trick has come in handy on multiple occasions.
"Auntie" had transformed the entire living room with mounds of white tulle, feathers and sparkles. 4 mini tables were set up with different place settings in various colors and heavily covered in rhinestone. I had no clue what this was about.
She led us to the dining room so we could discuss the details of what I thought was just a small get together, but again, I was wrong.
I thought this meeting would just involve Dayo's father, Dayo, the planner and myself. To my surprise, every single one of Dayo's actual aunts and uncles were sitting around the dining room table. Bright, colorful fabrics lined the tabletop and I was offered a glass of Merlot which I gladly took.
Dayo's Dad: Ah Katryce. Welcome. We are so happy that you all are here. And I see you've met the event planner.
"Auntie" smiled and waved.
Dayo's Dad: Let's begin. We are inviting 400 guests, so we have a lot to discuss.
Excuse me? 400 guests? Where?
We were there for 7 hours. I kid you not. Discussing not only the colors that Dayo and I would wear, but the colors the immediate family, extended family and special guests would wear as well. We chose the floral arrangements, the invitations, the caterer and the table settings.  At this meeting, I also learned that I was supposed to wear three different dresses during the ceremony but I opted for just two.
More and more, this felt less like the small engagement party I had assumed it was going to be and more like the actual wedding. And on top of everything, I agreed to make my own cake. The engagement ceremony was to take place one week before my actual wedding ceremony!!! Yeah. Jesus take the wheel.
Side note- Little known fact. I went to culinary school and used to run a cake business from home. The business ended when I was tired of dealing with people who wanted a $1000 cake but only wanted to pay $20. Girl Bye.
Wait – let's hit rewind because I left out an important part of the meeting. My mom showed up about 3 hours into the meeting and started up with her typical Jacqui shenanigans.  You see, she is a VERY proud Mexican woman and although she loved and admired the Nigerian traditions, she was not about to sit back and allow our culture to be pushed aside. She insisted that we heavily incorporate Mexico into the engagement ceremony.  I mean a full blown Mariachi band, traditional Mexican attire, tamales and giant flowers in everyone's hair. Oh and did I mention that she wanted her husband, my step-dad to play his violin with the Mariachi band and my aunt (who's a professional dancer) to have a special performance. My engagement ceremony was turning into a damn circus.
My father-in-law cherishes family and values tradition, so he happily obliged to her requests. The only thing he asked of her was that after wearing her Mexican attire, she change into a Nigerian ensemble. Her exact words  were, "ABSOLUTELY! I love a good costume change!" Folks. Welcome to the Jacqui show.
Side note- My father-in-law also asked me to ask my dad if he would like to wear a traditional Nigerian outfit. My dad responded with a simple, "I'm black. I'll wear a tie." My dad's not one for the theatrics.
Since I was so focused on planning our wedding ceremony, I took a step back and allowed my in-laws to take the lead on the engagement ceremony. This went pretty smoothly until it was time for me to pick my fabric for my dresses. You see I am a very simple person. I don't like sequins, I don't like jewels and I don't like beading. I also only like nude/neutral colors. This was a big no-no to my in-laws as bling and color is a huge part of their culture. However, I was not willing to bend on this. After months of deliberation, my in-laws finally realized I wasn't going to break. So I settled on a traditional red in honor of my Mexican roots and ivory for my Nigerian attire. I got my "boring" fabric and I loved it.
The week of our engagement ceremony, I barely even got to see Dayo.  While his parents had him running errands for our upcoming engagement ceremony, I was running errands for our wedding that was going to take place the following week. I had to pick family up from multiple airports, go to a million and one fittings, find wedding shoes and finalize a million and one other small details for BOTH ceremonies. Let's not forget that I also had to bake a cake that fed 400+ guests the night before the ceremony. I'm getting anxiety all over again just thinking about it.
By the grace of God, I made it to the day of the ceremony without running away and joining a convent. I woke up early that morning to enjoy a little peace before things got chaotic. That peace and quiet only lasted a good 20 minutes before the house was full of hairspray, curling irons and women walking around looking for eyelash glue.
I tend to be overly dramatic and anxious on a regular basis. However, I am oddly calm in hectic surroundings. I wasn't scheduled to have my hair and makeup done until we arrived at the ceremony venue, so while everyone else got all dolled up, I sat quietly in the corner, sipping on hot coffee and watching the show. Once everyone was done, we hopped in the car to make our way to the venue.
I wrongfully assumed that the venue would be empty aside from the event planner and her staff. To my surprise, when I walked in all of Dayo's brothers and cousins were there dropping off giant cases of booze. Let me tell you now that the most awkward thing ever is walking into your place of celebration, your bridesmaids are all glammed to the gawds and you look like Charlize Theron in Monster. I bee-lined it to the dressing room and slammed the door behind me. Thankfully, the most incredible make-up artist EVER, Toshia, was already set-up and waiting for me. Let the slay begin.
About an hour later, the dressing room is packed with my bridesmaids, mom, aunts, grandma and my mom's whole glam squad (my mom is a top hair stylist/colorist in the U.S. So yeah, she's got a squad). Everyone was getting zipped into their dresses,  getting their flowers pinned in their hair and finishing touches on their makeup. The ceremony was supposed to start in about 5 minutes, but there was one problem- Dayo and the his groomsmen were nowhere to be found.
All of the sudden we heard a bunch of hustle and bustle next door in the groom's dressing room. I sent a few bridesmaid spies next door to see what all the commotion was about. Three minutes later, my sisters came back and reported  that my soon to be husband and EACH of his FOURTEEN groomsmen were shit-faced drunk. I was furious. I wasn't even mad about the fact that they were wasted. I was pissed that was 4 o'clock in the afternoon and not one person had offered me a damn drink! I sent Zari  back over to the guy's room to get some booze. They sent her back with a bottle of Hennessy that was less than half way full. What a bunch of assholes.
The bottle was enough to give myself and all of the bridesmaids one shot. That shot got me through the next two hours I spent inside the dressing room waiting to be summoned to come out. You see, because I was so focused on the American wedding, I didn't ask many questions regarding the engagement ceremony. So I missed the part  about the bride not coming out until the second half of the ceremony.
The wait felt like forever. A big part of the ceremony is the introduction of the families. Each side of the bride and groom's families are announced and came out to their preferred music/entertainment. My in-laws came out to Nigerian drummers and singers. My extra-ass mom and her family were introduced to the guests with a mariachi band, salsa dancing and a Flamenco performance by my Aunt. This was no longer a ceremony, it was a Broadway production. It was only supposed to be a five-minute introduction, but my family danced out there for well over 20 minutes. Thank GOD I wasn't out there to witness the Rodriguez show.
For those of you wondering, my dad and his side of the family did not participate in the Mexican Hat Dance. 1. Because they're not Mexican so that would be a little awkward. 2. The Davis' are low key and like to play it cool. They snuck in through the side entrance and made their way to their seats.
Next it was Dayo's turn to go out. I ran over to a back curtain to take a peek at my future husband and by the fluidity in his dance movements, I knew he was pretty fucked up. Dayo is more of a two-step kind of guy and the man I saw out there was pop-lockin and droppin. Don't get me started on his boozy groomsmen. It was a mess. Regardless, they all looked so nice and my soon-to-be husband was lookin' like a damn snack- okkuuuurrrr. He wore ivory and gold while the groomsman wore this pretty shade of teal. His choice of entrance music? Wizkid. Wizkid is like the Drake of Nigeria. And Dayo's drunk ass was feeling every bit of that song.
By the time it was my turn to go, it was nearly 8pm. The event started at 4pm. I was pissed TF off, but relieved that it was finally time for me and my girls to go out. My first dress was very Mexican inspired and oddly resembled the emoji of the woman dancing in the red dress. My bridesmaids wore off the shoulder, deep teal dresses that came knee length. I stood at the curtain, waiting to come out and took a deep breath. I just knew when they opened the curtains, my guests would be taken aback by me and my beautiful bridesmaids.
Welp. Joke was on me. Cause by the time we walked out, all my guests were drunk. Loose off the Goose drunk. I mean what did I expect? They had already been drinking for the last four hours and we had a whole hell of a lot of booze. At this point of the ceremony it is basically the presentation of the bride but I had to wear a vail because the big reveal happens when I wear the traditional Nigerian clothing. So I walked to the middle of the floor to Daddy Yanke (the Latino Lil' Wayne) and we danced while all of Dayo's family showered me in cash. The cash made the whole 4 hour wait not so bad and motivated me to shake my shoulders in the most Mexican way I knew possible.
[embedyt] https://www.youtube.com/watch?v=KssdqHMHaa8[/embedyt]
I was then guided off the stage back to the dressing room for my next change. I didn't even get to say a word to Dayo! All this work for a dress everyone was only going to see for just 5 minutes? On top of everything I was hungry, sober, hot and irritated. But on the plus side- I was about $600 richer.
My sisters helped me take off my dress, but before I changed into the next dress, I demanded a drink. Ok. A couple of drinks. Even though everyone was waiting for me, it was my turn to have a little fun. So me, my sisters and a few of my bridesmaids took shots, on shots, on shots. I got dressed in my gown, got my Gele tied, my sisters got theirs tied and we were ready for part 2.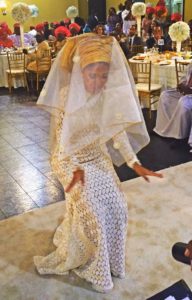 This time when we walked out, we came out to my favorite WizKid song. And we were lit AF. We were poppin' and shakin; and shakin and poppin' all over the dance floor. The DJ loved it so much that he didn't stop at one song, he played two more! Thank God I was buzzed and couldn't feel my feet.
The next hour was a lot of praying and kneeling and words of affirmation and more praying. It was all very beautiful but I was secretly hoping that things would wrap tf up. FINALLY, after about 45 minutes of prayer in Yoruba dialect that I did not understand at all, they said "you may now kiss the bride". THANK YOU JESUS! Even though Drunko Skunko could barely find my lips due to his beer goggles, we kissed and the party was ready to start!
Everything after that point was pretty much a blur. I just remember them joining me and Dayo's hands, playing Juvenile "Back That Ass Up" (that's when my black side came out) and then waking up in my bed, with my dress halfway off, one shoe on and Dayo asleep in the bathroom near the toilet. Based on the pictures I saw the next day, everything was beautiful! (Scroll down if you want to see more pics!)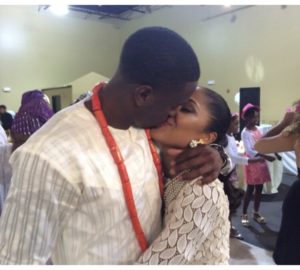 End all be all, the small, intimate engagement ceremony was everything but small and intimate. And you know what? I wouldn't go back and change a thing. Nigeria is rich in traditional culture and celebration and I'm proud to say the I too am now an "Auntie" lol.
Make sure you tune in next week when I share the story of my actual wedding and my bridesmaids-zillas!