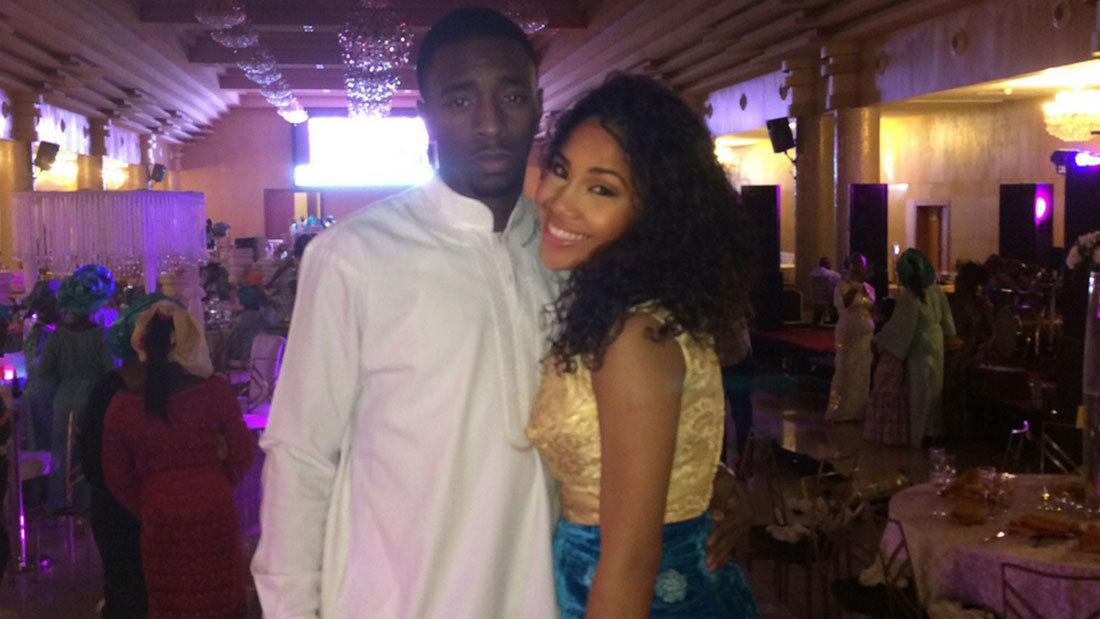 06 Mar

That One Time I Went to Nigeria

Part 1

I've been afraid to travel overseas my entire life. Prior to the experience that I'm about to share, the farthest I had ever traveled was Canada (on a high school trip) and a family trip to Tijuana, Mexico which is basically just an extension of California. You see, I've watched a lot of "Locked Up Abroad" in my day and who can forget that Sex and The City movie where Samantha got arrested in Dubai for exposing her shoulders! I had absolutely no desire to travel outside of the country because I was almost positive that I was going to be arrested if I did. I have a hard enough time following the rules in this country. How could I be expected to go somewhere else and follow theirs? No, thank you.

Ever since the first year we started dating, Dayo (my then boyfriend, now husband) tried to convince me to travel with him to Nigeria. Every time, I politely declined. Although I wanted to meet his family, my fear of traveling overseas held me back. After inviting me a third time, Dayo had enough. His cousin was getting married in Nigeria AND South Africa. He insisted that I go with him and wasn't backing off. Finally, I caved, put my big girl panties on and agreed to go.

Dayo's dad was ESTATIC and ready to dunk me head first in Nigerian traditions. In Nigeria, for most events (especially weddings), specific fabrics are assigned to specific guests. That way, when you attend the event, you will know who is who i.e. parents of the couple, immediate family, extended family, general guests and more.  Since I was new to the Nigerian fashion game, when I was given my fabric, I found some random dress-maker to complete my ensemble and she botched the whole thing. My dress had pointy tits and boxy hips. Basically, I looked like Cruela on top and Sponge Bob on the bottom.
It was a shit show and I had no time to get it fixed.
Two days before I went to Nigeria, I did an entire video will just in case things went south on my trip and I was indeed kidnapped or arrested as I feared so much. I sent the video to my older sister Bonnie and it revealed that everything  I had should go to my son, CJ. I should mention that "everything I had" was absolutely nothing. I had no assets, hella hospital bills and my bank account had -$17 in it. So I was basically leaving CJ my debt. Poor kid. In my defense, I did have a pretty sweet collection of *NSYNC and Spice Girl memorabilia that I'm sure he could've sold on eBay to bring that $-17 right up to an even balance. 
The night before our flight my dad insisted that Dayo and I meet him in the parking lot of a nearby mall. A little background on my dad:
-He was a heavily decorated Air Force officer and policeman when he was younger.  
-He's very mysterious and always talking in code
-He always has at least 10 pockets in whatever he is wearing that are always full of gadgets and gizmos that could save a person's life or take it away.
You know the dad from Taken? That's my dad in a nutshell. My sisters and I are convinced that he's a spy or an assassin.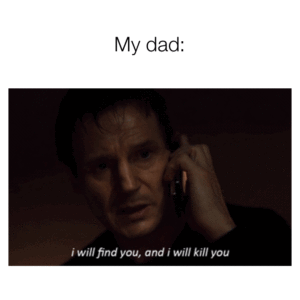 Anyway, when we arrived at the parking lot, he gave me $1000 in cash, a universal credit card, a contraption the size of a Tic Tac container that would turn into an inflatable raft upon opening, a giant straw that could purify any water source, a universal phone, and a bright yellow walkie-talkie. I know you guys are going to think I'm making this next part up, but I swear to God this really happened.
As he passed me the walkie-talkie, he says to me very seriously "Katryce, if you are ever in trouble, press this red button and say that you need help. Within five minutes a group of men are going to arrive via helicopter and get you." He then glanced at Dayo and said "there's only enough room in the helicopter for one."
It was a quiet ride home.
The next morning, I almost shit myself. I couldn't believe I was leaving the country. I had done some research on the Nigerian and South African laws just to make sure there was nothing crazy I could do that would get me arrested when we got there. I was so nervous that I almost got off the plane before take-off. That was until I found out Dayo's father started a tab for us and we could order as many of those mini bottles of alcohol as we wanted. I can't remember things exactly, but I'm pretty sure I did the electric slide as I walked off the plane when we landed. I was pretty wasted.
When we landed in Lagos, we were greeted by a gentleman who came to expedite our customs/baggage process. He walked us through the airport and told us that our bags were already in the car.  When we walked outside, three black SUV's were waiting for us with armed guards surrounding the vehicles.
Now on the outside I looked calm, cool and collected, but my inside voice was telling me to pull out that damn walkie talkie and call for help!
Dayo: "I may have forgotten to mention that my family is very politically involved, so this is basically like secret service."
Me: *mumbling through my teeth while smiling as to not alert his family of the fact that I was about to murder him* "We've been dating for three years. How could you forget to mention that little fact?!?"
Dayo: "I knew if I told you that, you wouldn't come. It's all good. If anything now you know you really have nothing to worry about. We're completely safe and protected."
Dear God. Help me.
On the ride, I had to sit behind a guard who was holding a giant AK-47. Just my luck.  Even though I was scared shitless, I couldn't help but take in everything around me.
There were only two types of cars on the road. Extremely expensive ones (Range Rovers, BMW's, Porsches etc.) or brightly colored vans that were straight out of the 1970's. Car lanes are not a thing in Nigeria. It's just one giant road and people "getting in where they fit in". I literally saw about three cars nick the sides of other cars and no one even stopped. Seeing as though I am the Fender Bender Queen, I was really starting to feel at home.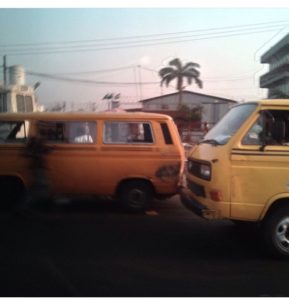 Everything was so colorful! Everyone was wearing vibrant colors and carrying baskets of plantains and yams on top of their elaborate head wraps. In the middle of some streets you would see groups of children playing soccer in sandals, kicking up clouds of red dust. Women had their babies tightly secured to their backs with thick, patterned wraps. It was beautiful.
In this particular area of Lagos, the people didn't have much money. But if it's one thing Nigerians are masters at, it's hustling. There were fruit stands on every corner and little boys running up to the car to sell you sugar cane and spicy plantain chips. Guys were pulling massive carts filled with brilliantly colored fabrics and women would flock around them to pick from their vivid collection. I kid you not, a man came up to the car with an old sewing machine from like the 1920's and tried to sell it to me. Honestly, he was so persuasive that if it wasn't for the fact that I had nowhere to store it, I would've bought that thang.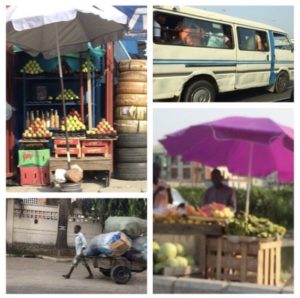 After about an hour and a half of riding in traffic, we crossed over a long bridge that put us in a totally different environment. We were still in Lagos, but it looked drastically different. Most of the roads were paved, there were fewer people on the streets and we were surrounded by ginormous mansions that were guarded by 10ft tall gates. It literally looked like we were in Beverly Hills. We had arrived in Victoria Islands, a city in Lagos where a lot of Dayo's family lived.  It was absolutely gorgeous.
Now it was time to meet the family and man, did he have A LOT of family. I've never met so many aunties, uncles, cousins, sisters and brothers in my entire life. Oh and I should mention that every time you greet an elder, you have to do this curtsy/bow combo. By the end of the night I felt like I had just left an intense Zumba class.
At every family members' home we went to, they had at the very least a chef, chauffeur and butler. I was trying to play it cool, but on the inside I felt like Halle Berry in B.A.P.S.
After meeting countless family members, we finally called it a night. The wedding was taking place the next day and we had so much to do! Overall, my first impression of Nigeria was that I absolutely loved it and couldn't wait for the wedding. Little did I know, the next day would not go as smoothly as the first.