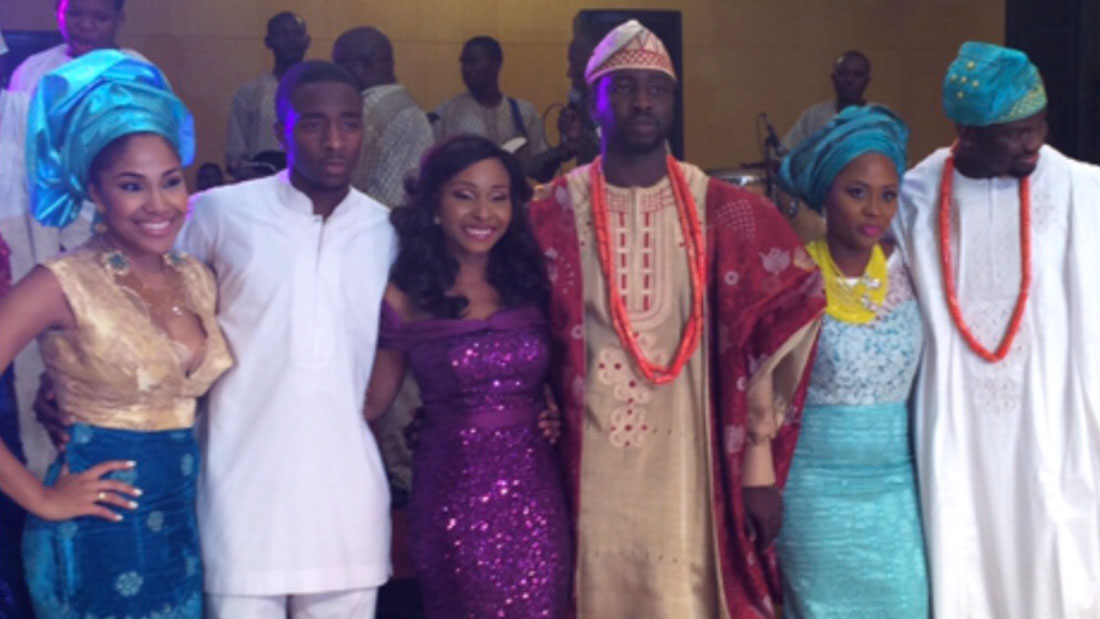 13 Mar

That One Time I Went to Nigeria Part 2

And we're back! If you didn't read last weeks post, click here to catch up.

OK. I hope you're ready to laugh your ass off. Let's do this!

The day of the wedding ceremony I had so much to do. First things first, I had to fix my disaster of a dress . Thankfully, Dayo's cousin had a seamstress that could fit me in. When she saw the dress, she did this lip smacking thing that a lot of Nigerians do when they think something is ridiculous or they're irritated. I've seen my father-in-law do it one too many times, so I was well aware of the fact that she thought I looked like an idiot. Me too, Sis. Me too.

As if I wasn't humiliated enough, she  called in a few friends to look at the hack job and laugh too. After she was done putting my mess of an ensemble on front street, she agreed to fix my dress. She couldn't promise a miracle, but she did say she could make it work. That was good enough for me.

While the seamstress was  working on my dress, I got very hungry. Dayo's cousin, Bode, insisted that I try this traditional Nigerian street dish called Suya. Suya is skewered beef that is smothered in spices and barbecued. Normally I would consider myself a pretty adventurous eater, as I make it a point to try everything at least once. But when we pulled up to this little rinky-dink cart in a random back alley and the guy cooking the food had all of two teeth and a lazy eye; I was pretty skeptical. We ordered four servings of Suya; one for Bode, one for me, one for Dayo and  one for his father.

I hesitantly brought the beef to my mouth. The moment it hit my lips the clouds parted and the heavens shined upon me. It was the most delicious thing I'd  ever tasted in my life. The beef was spicy, tender, salty and just straight up bomb. I finished mine, then finished Dayo's. Then ate his fathers. It wasn't my finest hour, but it was just so good I couldn't help myself.
We got back to Bode's house and it was time for makeup. Normally, I am pretty good at doing my own makeup. However the Nigerian make-up scene is like no other and I wasn't about to be  lookin' basic AF in my drugstore makeup. Bode's wife, Uche, had a makeup artist that was willing to do my makeup as well. Even though I had never seen the makeup artist's work, Uche was always killing the game, so I knew she would only have the best.
I walked downstairs to meet the makeup artist and was totally taken aback by this woman. She was AT LEAST 6 feet tall, had glowing, chocolate skin and her eyebrows could cut a bitch. She was the  definition of slay. I smiled at her with a goofy, overeager smile. She never smiled back. She just glanced at me for a second, took a deep breath and told me to sit. Dear, God. I had already irritated this woman and I hadn't even opened up my mouth yet.
I sat in the chair and she went at it. She didn't even ask me what I wanted done. She just started slathering my face with this and that, using all different kinds of brushes and liners.  I didn't know what was going on, I  just knew here was glitter everywhere. I had absolutely no clue what I was about to look like, but when she passed me the mirror I was shocked. Who was this queen with radiant skin, contoured cheeks and fleeky-ass eyebrows staring back at me?! This woman was an artist and my face was now a masterpiece.
I see you, Sis.
It was time for my gele. A gele is the Nigerian head wrap. It's a stiff piece of fabric that is wrapped around your head and secured with pins. It turns out looking like a beautiful fabric crown and I could not wait to get mine! Even though I had been to multiple Nigerian events at this point, this was the first time I was actually wearing the gele. I was cheesing from ear to ear and the make-up artist was just looking at me like I was a weirdo.
She took out this thick gel and shellacked my forehead, sideburns and naps in the back. I was pretty lubed up. I passed her my fabric and she started ferociously wrapping my skull. With every tightly laid swoop, she motioned me to hold it in place.  My head wobbled from side to side, as I attempted to withstand the pure force this woman was using to apply this thing. She then took her knee and put it in the back of my chair to steady herself as she tied the whole thing together. My ears were pinned down and the glue-like gel she applied had the wrap secured to what felt like my brain. My eyeballs were practically squeezing out of the sockets and my eyebrows where pulled back so tight that I just looked hella surprised.
She then said "Here's some Advil. You'll need it for the headache."
"What heada-?" …before I could get the words out, my head started pounding. This was pure torture and the actual definition of the saying "Pain is Beauty". It was so painful, but it was important for me to  show Dayo and his family that I respected and admired their culture. Even if that meant squeezing my head like a tube of toothpaste.
I finally got my dress back and it fit pretty nicely. It wasn't quite what I originally envisioned and the nipples were still pointy AF, but it was a vast improvement. I threw it on and we were on our way.
Dayo went ahead of me because he was actually in the wedding party, so I rode with Uche to the venue. When we walked in the lobby of the hotel, cameras swarmed around her. I tried to keep up as best as I could in my strappy, five-inch stilettos, but the sea of paparazzi carried her away. There were well over 2000 people attending this wedding and I couldn't find anyone I recognized. I was just standing there, my ears purple from my gele, my feet swollen from trying to keep up with Uche, and my eyes frantically searching for one of the 10 people I actually knew.
The decor was absolutely breathtaking. There were flowers everywhere, everything was encrusted in jewels and the outfits were incredible. The greatest thing about having to get your outfits made for Nigerian events is that you will never have to worry about bumping into someone wearing the same outfit. People were wearing long dresses, short dresses, jumpsuits, wraps and more. Even though everyone wore the same fabric or color, everyone looked so unique. Then there was me –  looking like a goofball in my ill- fitting dress that made me look like I was trying to smuggle ice cream cones in the building.
Don't get me started on the bride. She looked like a dream. Mayowa, you killed it.
While I was taking in all this beauty, I was still secretly panicking because I couldn't find anyone I knew. It didn't help that I couldn't see a thing over the 4-foot table settings on each table. And what I could see beyond that was blocked by endless sea of bedazzled geles. I awkwardly walked around the wedding for an hour looking for a familiar face. My feet were dead at this point, so I looked like I had one too many glasses of wine and I was getting odd stares from everyone. A table of very nice women welcomed me to sit with them because they could clearly tell I was lost as shit.
I had just about given up and accepted the fact that I would never see my family again, until I heard "Katryce! We've been looking everywhere for you!" It was Dayo's brother, Moyo! He rescued me and took me over to Dayo's parents,  who were sitting just four tables ahead of me. I'm an idiot.
I plopped down at the table and took the liberty of pouring myself a glass from  the open bottle of wine. I didn't even ask if it belonged to anyone. I just poured myself a glass and took it to the head. My feet were so done and I couldn't wait to loosen the straps and let my dogs out. But I never got the chance because Dayo's dad started introducing me to everyone.  This meant more walking, more bowing and more bunions. Then we took what felt like a million family pictures. By this point, all the other women had pulled cute little flat sandals out of their purses.   Clearly  I missed the "bring comfy shoes" memo.
When I finally got a chance to sit, I was completely exhausted. I hadn't eaten, my feet looked like something from  the Nutty Professor and I had lost feeling in my ears and the right side of my brain. I had to take this gele off! Problem was, I was sweating bullets under there, so when I actually removed the gele, I looked like I was in the Soul Glow commercial from Coming to America. It was a damn mess and I was so embarrassed. So I just poured another glass of wine.
By the grace of God, Dayo's mom had an extra pair of flats and I couldn't get them on my feet fast enough. We were seated right next to the stage and the music was everything. On stage was one of the greatest Nigerian musicians, King Sunny Ade. Everyone was up dancing and having a good time, but I decided to keep it safe and clap gracefully from my seat. Don't get me wrong, I know how to move, but Nigerian dancing is an art in itself and I hadn't mastered it yet. I wasn't about to get up and make a fool of myself. Again.
Dayo's dad had other plans. I could see him on the stage whispering something to King Sunny Ade and then he smiled at me. Dear, God. Please tell me he didn't do what I just think he did. Before I could sneak away and hide in the bathroom I hear "KATRYCE! KATRYCE! KATRYCE!" King Sunny Ade was incorporating my name into his song and signaling me to join him on the stage! I wanted to slide out of my chair, on to the floor and under the table. Take me now, Lord.
I stumbled up on stage, spiky boobs, sweaty hair and all. He grabbed my hand and started to dance. At this point, I was already at the most embarrassing level I could reach,  so I succumbed and started to dance. He was a pretty big deal after all and I wanted to make sure I had a story to tell my grandchildren one day. I started out with very modest two-step, but about 30 seconds in to the dance- that wine kicked in and I lost control. I was no longer Katryce. I was Beyoncé.
I was swinging my head back and forth and throwing my hips side to side like I was using an invisible hula hoop. My shoulders were shaking so hard, it probably looked like I was having a seizure. But you couldn't tell me nothin'. I was killin the game in my mind and Dayo's family didn't help because they just keep egging me on. They really are the best.
By the end of the night, I was passed out at the table because my body had enough. I had partied for hours with no food in my stomach and had way too many glasses of wine. When Dayo came to tell me it was time to go, the only words I could mutter were "Suya. I. Need. More. Suya." And my baby, although very irritated, found me some Suya at 3 am in Lagos.
Side-note: I couldn't keep up then but now I can hang. I always pack extra shoes, eat a little before each event, wear my hair in a tight bun under my gele and take Advil before I even get the gele tied. Oh AND I have learned the art of Nigerian dancing. I'm no Whiz Kid background dancer, but I can keep up. I consider myself a pro now and my in-laws call me an honorable Nigerian. *takes bow*
We spent the next five days in Nigeria trying local cuisine, attending more parties than I could count and shopping for little trinkets to take home to the kids. I had an absolute blast. I could go on forever about how much fun I had in Nigeria, but my trip did not end in Lagos. In the Nigerian culture you actual celebrate the union of marriage twice. Once in the traditional Nigerian engagement ceremony and then in the manor that most Americans recognize- the white wedding. That portion of the celebration was taking place in Johannesburg, South Africa, so it was time to leave my beloved Nigeria.
Although I was so sad to leave Nigeria, I was very excited for what was to come. Make sure you subscribe below to be the first to know what happened when I went to South Africa! I'll be posting all about it next week!