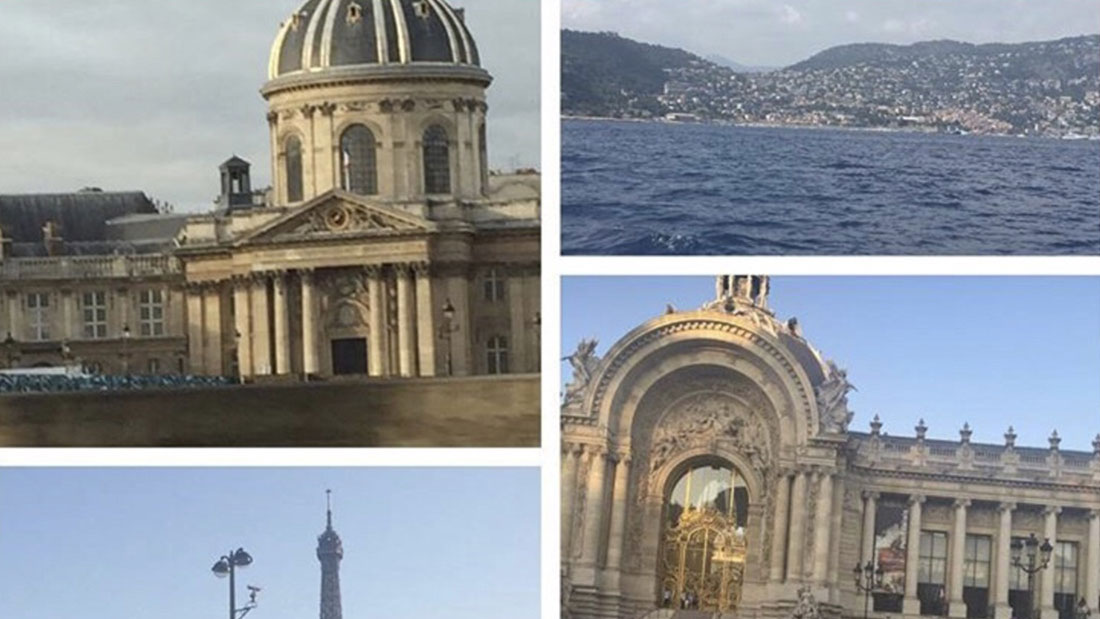 18 Jul

My Honeymoon in France! – 8 Days In France, No Access To Our Money And A Lucky Night At The Casino

If you've been keeping up with my recent posts, you've read about my epic engagement ceremony and glamorous wedding! But the real fun (and chaos) took place during my honeymoon- in PARIS! This story is about how my husband and I traveled AAAAALLLLLLL the way to France with high expectations and NO access to any of our money.

When Dayo asked me to marry him, I ran to my wedding books and Pinterest boards to begin the planning of my dream wedding! The only thing I was even more excited about was our honeymoon! Years before we got engaged, Dayo and I always spoke about honeymooning in Paris. It was a place I longed to go my entire life! So just two days after we set our wedding date, I got on the phone with our travel agent to schedule our 8-day trip to Paris and the South of France!

In the weeks counting down to our romantic getaway, I took all of the responsible steps one would take when traveling outside of the country. I registered us with the U.S. Embassy in France, made sure our passports were up to date and called our banks to let them know we would be using our cards overseas. I felt confident that the trip would go off without a hitch.

Neither of us had ever been to France, so naturally, we packed basically everything that we owned. We also brought $1000 in cash with us, as well as one of our debit cards and one of our credit cards- both Bank of America (trust me, that part is important). We figured we would use our debit card while we were down there, the cash as back up and our credit card as a back up to our back up. Totally being responsible ass adults, right?

Day 1

The moment we landed in Paris I just knew this was where I was meant to be. Everything you see in the movies about Paris is exactly how it is in real life – skinny cobblestone streets, beautiful architecture, couples riding bikes with baguettes sticking out of their baskets; it was all just gorgeous.

Don't get me started on the food! I am the biggest foodie you will ever meet, so Paris was literally a dream come true! Everywhere you looked there was mussels and frites, freshly baked breads, cheese shops and much more. My husband, the fashion guru, also found himself in pure paradise as Paris is a designer smorgasbord!  It was heaven. ­­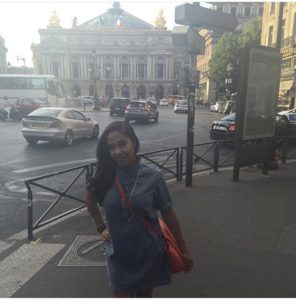 We went to Paris wanting to do a few touristy things, but we also wanted to experience the city as the locals did. We had our travel agent book a few things in advance (Disney World Paris, a cooking class, snorkeling and our train ride from Paris to Nice-South of France), but we kept the rest of our schedule pretty open to leave room for impromptu activities.
When we checked into our hotel, I saw a large sign on the front desk that read "Moulin Rouge Dinner and Show." For those of you who don't know, the Moulin Rouge is a famous, Parisian burlesque-style show. It was our first night in Paris and we wanted to do something really nice. This was perfect! We asked the concierge to book tickets, she happily agreed and asked for the payment. I gave her my debit card and waited patiently. About three minutes later, she told me my card had been declined. "Whet?"
This was insane. I checked our account and there was absolutely no reason the card should've declined. Regardless, it wasn't working, so I gave her my credit card instead.
"I'm sorry, mademoiselle. This card was declined too."
Ex-squeeze-me? At this point,  I wasn't just embarrassed, I was pissed. I checked the credit card account and that was all good too.
"No. No. No. There must be some kind of mistake. Please run it again."
She ran the card again.
"So sorry. It is not going through."
"Well can I pay cash?"
"Unfortunately, Mrs. Pedro, you cannot because we have to schedule everything online. So sorry. "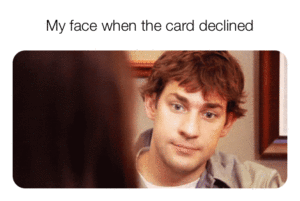 I'm just standing there looking dumb AF and broke AF. Thankfully, Dayo was already upstairs, dropping off our bags. He is so very easily embarrassed that if he had been with me, he probably would've just jumped behind a bush and hid. I had no other choice, but to take my card back and walk my miserable ass upstairs.
I got to the room and explained the situation to Dayo. He told me to calm down and just call the bank. He was sure it was just a simple mistake that could easily be fixed. When I got the bank on the line they told me that they weren't sure what was wrong, but they had fixed the issue and we would have full access to our funds in the morning.
"This is why we brought cash, Babe. Everything will be fine."
Dayo was right. It was only the first night and we had plenty of cash for this reason specifically. ­We decided to get dressed up and catch a cab to a nearby, well-known restaurant nearby. Even though it wasn't the Moulin Rouge, the food was amazing and we looked cute AF so I was content with our makeshift plans. After hours and hours of travel, we decided to turn in early so we could get a fresh start in the morning.
Cash left- $895
Day 2
We woke up early to go to breakfast in the hotel – which was included with our reservation. This was no continental breakfast. This was a gourmet, mouth-watering, delectable breakfast buffet. I'm talkin' freshly baked artisan pastries & breads, aged cheeses, made to order crepes, sausage, bacon, roasted potatoes, rich coffee and champagne for the fancy bitches.
On the outside I was pretending to be the classiest person in the room, on the inside I kept screaming to myself "I can't believe this shit is free", while stuffing my face with multiple chocolate croissants.
We had about two hours to kill before we had to head over to our cooking class, so Dayo insisted that we stop by the mall. I normally loathe any shopping that isn't online but I saw a poster on the outside of the mall with photos of multi-colored macarons, so I was sooo down.
As soon as we walked in the mall I headed straight for the macaron kiosk. I got one of each of the 15 flavors which brought my total to a whopping $45. I know what you're thinking, "FORTY-FIVE DOLLARS FOR SOME COOKIES?!?". It's ridiculous, I know, but macarons are my absolute favorite cookies and the best macarons were in Paris, right?
Anyway, I handed the woman at the kiosk my card and she passed me my beautifully boxed cookies. I took out a salted caramel macaron and stuffed it in my mouth. It was literally one of the most delicious things I've ever had. Before I could finish devouring my delectable treat, the cashier cleared her throat and said, "sorry to umm… disturb you, but your card did not go through."
Shocked, I dusted the sugary crumbs off of my face and swallowed the remainder of my cookie. Fuuuuucccckkkkk. You've got to be kidding me. It happened again. Instead of even trying my card again, I just pulled out my cash to spare myself the embarrassment.
I somberly walked over to Dayo with my head hung low and my shirt covered in cookie crumbs. I looked like a toddler who just got abruptly snatched away from an all-you-can-eat pancake buffet. It was a mess.
"It's ok, Babe. This is why we brought cash. It's Saturday so the issue probably won't be fixed till Monday. It'll be fine."
He was right. There was no point in me freaking out about our cards. It was the weekend after all and everyone knows banks don't do shit on the weekend. So I threw caution to the wind and happily munched on macarons while Dayo tried on and purchased a few shirts.
We headed over to our cooking class where we shopped at the local farmers' market, prepared duck and tomato/goat cheese towers and devoured our culinary creations. It was everything.
Day 3
For remainder of the weekend we visited the Eiffel Tower, the Louvre, multiple restaurants, took cabs everywhere and a did bit more shopping. We used cash for all of our weekend fun with the assumption that our cards would be working by Monday. What. A. Couple. Of. Idiots.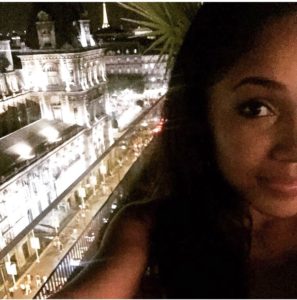 Day 4
Cash left: $450
Day 4 was our last day in Paris before we hopped on a train and headed over to the South of France for the remainder of our trip. It was the day I was most excited about because we were catching the Paris subway to go to DISNEYLAND PARIS!!!! I was totally stoked. Dayo? Not so much. But ya can't please everyone, right?
When we got to the subway station, we needed to buy our passes to get to the Disneyland station. How crazy is that? The subway station had a Disneyland stop. Anyway, the ticket booth provided the perfect (and discreet) way for us to test our cards to make sure that they were actually working again. So I swiped our debit card for our $18 tickets and *drum roll please*-
the card was declined.
Panic set in. I was freaking tf out. We had been in Paris for 3 1/2 days and our emergency cash stash was depleting by the second. Furthermore, it was going to be nearly impossible for me to be frugal and budget today. We were heading to the happiest place on earth where the prices for a simple meal are anything but "happy". The good news was that we had already paid for the tickets for the park, so we were good to go on that end.
On the way to the park,  I called the bank, yet again, and demanded that our card situation be fixed immediately. They apologized profusely and said they didn't know why the cards weren't working. The woman assured me that the problem would be rectified and we would finally be able to use our cards the next day.
Even though I was very skeptical, the woman was so convincing that I believed her almost immediately. I'm not usually gullible at all (I'm naturally paranoid), but the excitement of visiting Disneyland Paris trumped any bit of fear I had.
Fuck it.
Day 5
Cash left: $295
The next morning, we woke up early because we had a train to catch. We were headed on the second leg of our honeymoon and had a little under $300 left for the remaining three days of our trip. We tried our cards at the train station. Again, they didn't work. Thank God we prepaid for our train tickets before we left the states. At this point, I was completely freaking out internally, but I tried to keep my cool because I didn't want to ruin our honeymoon with panic and anxiety.
We both knew that cab rides, food and drinks alone would eat up that money. We sat quietly on the train racking our brains as to how we could solve our money issue.
Something weird happens when you enter a beautiful place. Your breath is literally taken away and all of your worries are gone. This is what happened when the train rode along the Nice coastline. To this day, it's the most beautiful place I've ever seen in my entire life.
Nice is a small town off the coast of the South of France with black rock beaches and buildings literally built into the hundreds of cliffs that line the coastline. Majority of the food served is freshly caught seafood, there are casinos everywhere and mostly everyone was riding a moped or walking. Let's not forget the jewelry vendor stands on nearly every corner and the giant shopping mall that Dayo and I couldn't even look at since we were technically broke.
The beauty of this city didn't allow me to panic (at least not immediately). When we arrived at the hotel I had to sit down, wrap my head around our finances and figure out how to make our money stretch for the remainder of our trip.
Our bomb ass travel agent once again set us up with a hotel that served an amazing and free breakfast. AND since it was our honeymoon, we got a free dinner at the hotel restaurant that just happened to be highly ranked for its delicious menu.
So now I had to stretch $300 over 3 lunches, 2 dinners, cab rides around town and a cab ride to the airport. It would be tight, but we could do it.
The first night we decided to get dinner and explore the city. We walked around for hours just talking, eating gelato and truly just enjoying each other's company. When you have two kids, full time jobs and a 145 lb dog, Ace (another story for another time) quiet time is much needed.
With all of my anxiety over the whole card mishap, I forgot the simple task of enjoying my honeymoon and spending quality and quiet time with my husband. It was magical.
Our blind journey led us to one of the largest casinos in Nice. Dayo is by no means a gambler, but for some reason he just could not resist going into the casino. Somehow he had gotten it into his mind that we were going to win big and be able to spend the rest of our trip balling out of control.
I am normally a mega control freak, but somehow I allowed Dayo to convince me that it was a good idea to bet $120 of our money at the casino. I'll spare you the details, but let's just say that we didn't win big. Hell. We didn't even win small.
When we got back to the hotel, I called the bank yet again.  This time I was in full-blown tears. I was practically begging them to figure out a solution for our problem because we were straight broke. Again they said that they didn't see a problem on their end and that the card would be ready to use by the next day. Yeah. Ok.
Fuck. Fuck. Fuck.
Day 6
Cash left $100
The next morning, we went downstairs to eat breakfast and again I was blown away with how delicious everything was. I tried to hide my face of pure anxiety from Dayo all morning, but having only $100 while across the globe is such an unsettling feeling.
"We'll be fine, Babe."
At this point we even reached out to our parents to see if they could wire us some money. Unfortunately, we were not near any locations that offered wire transfers. We had no choice, but to be smart and cheap AF.
It was time for our scuba excursion, which we paid for in advance. Side note: I am deathly afraid of sharks, so I was fully convinced that I was going to die. When the time came for me to jump in the water, I quickly switched myself from diving to snorkeling. I punked out. And even snorkeling proved to be terrifying for me.
Dayo had absolutely no fear in his heart, dove deep under water with the instructor and left my scary, goofy butt floating on the top of the ocean. While waiting for Dayo to finish, my dumb ass doggy paddled in a circle around the boat. I needed to be close enough to the boat that if shit popped off, I could just hop on quickly and worry about Dayo after I was safe. No fucking way was I getting eating by a shark. No fucking way.
Another side note: I learned how to swim when I came out the womb AND I was on the swim team in high school for 2 years. So the fact that was doggy paddling made absolutely no sense. Fear will do some strange things to you.
When the excursion was done, Dayo and I were starving. We stopped at a little bistro and got salads and sandwiches that didn't set us back too bad. We decided that we would use our free dinner this night to avoid spending more money on food. In the meantime, I wanted to hit the beach. It was free after all.
The whole beach trip lasted all of 35 minutes. I'm all for showing what you got, but the amount of geriatric men in speedos I saw that day was enough to last me a lifetime. Prune balls stuffed into  Barbie-sized bikini bottom is not my idea of a good time. So we bounced.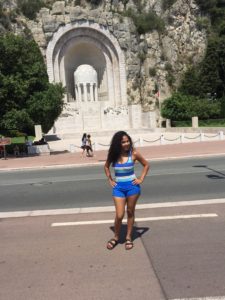 We decided to take another walk. I REALLY wanted gelato, sooooo I got gelato.  That left us with $50 for the last day of the trip. The cab ride to the airport was $30 and we would still have $20 to grab a few snacks for the plane. We could actually do this.
Our walk, once again, landed us in front of the casino. And you know what Dayo's ass said?
"Babe, let's just bet what we have left. Come on. It will be fun!"
I don't do anything unless it makes logical sense. I do not like to live my life off of chance and I am in no way a gambler. So that's why, to this day, I can't believe that I allowed Dayo to convince me to bet our LAST FIFTY DOLLARS at a Texas Hold'em table.  SMDH.
We sat at the table, Dayo handed me $25 worth of chips and he kept $25. I didn't even know how to fuckin play the game. Dayo knew the very basics of the game but was nowhere close to being a pro.  If it wasn't for the free drinks the bartenders were bringing around, I probably would've just burst into tears right there at the table.
I just started placing chips on different circles on the green table. I put my elbow on the edge of the table, rested my miserable face in the palm of my hand and watched the music videos they had playing on the giant screens.
I just knew we were going to lose it all.
All of the sudden I heard, "AYYYYYEEEE!!" and then a bunch of people screaming loudly in French. I turned to see what all the fuss was about and everyone was looking at me. Even Dayo was looking at me, but he doesn't speak French either so he was just as confused. The dealer tried to tell me something, to which I replied, "I'm sorry but I don't speak French."
"You just won… how do you say… one thousand five hundred American dollars!"
I nearly passed out.
GET TF OUT OF HERE!!!!!! HELL YEAH! HELL FUCKING YEAH! I ran up to Dayo, jumped into his arms and we made out like to horn ball high schoolers in a 1990's teen romantic comedy. We grabbed our chips, cashed out and marched our happy asses over to the mall. We spent an easy $600 in just under an hour.
Then I saw a RayBan store that had the most beautiful rose gold, circular glasses. I just had to have them. I walked in like Julia Roberts in Pretty Woman. When it was time to pay, Dayo said, "Just try using the card. I want to see what happens." Even though I was perturbed, I did it  to appease my husband. And you know what? That mother fucker of a card went through. What kind of sorcery was this? BEST DAY EVERRRRR!
The next 24 hours were a blur as we pretty much just shopped, ate and drank as much as we possibly could. We deserved it after all. And even though we spent 80% of our trip budgeting, we actually ended up not only saving money, but earning some extra dough too.
Our trip to France was one of the most stressful trips I have ever been on in my life. But on our flight home, I creepily stared at my new husband while he slept thinking about how in the midst of all my anxiety, he kept me calm and assured me everything would be ok. And we worked as a team the entire trip. I knew this was just another sign from God that we would be wonderful partners in life… even though he gets on my last nerve.